Janitorial Company Columbus, Ohio — A Name You Trust
A Clean Work Environment
Makes All the Difference
The Master Clean Process
Quality Janitorial Company Columbus Ohio Name Trust Services in
Three Easy Steps

Contact Us for a Free Quote
Speak to one of our customer service representatives to set up a time for us to come to your location, assess your situation and provide you with a cost-effective solution.

Schedule Your Service
Once you have your quote, we'll work together to determine the best date and time to perform our high-quality Janitorial Company Columbus Ohio Name Trust services.

Pay Upon Completion
After we've completed the service, we'll walk through the property with you and discuss everything that was done and ensure your total satisfaction prior to payment.
Professional Janitorial Services
Keeping your place of business neat and tidy
improves productivity
As long as we've been in business, we've been able to build a reputation and a brand for ourselves. Master Clean is a company known all over the country for being the best janitorial company Columbus Ohio. You don't make a name for yourself by being second best! That's why our customers love us and continue to contact us for all of their janitorial services!
If you're in need of a janitorial company Columbus Ohio, contact Master Clean today! Our team of professionals will happily assist you and schedule an appointment for you at your convenience. With decades of experience and unmatchable quality of work and customer service, you're guaranteed to be overly satisfied with the work that we do while we're in your space! Our friendly staff will be in and out in no time, leaving you with an impeccably clean work space or home space.
We use the latest cleaning equipment and techniques to lift the dirt without doing damage. You never have to worry about if the job will be done right the first time! Our janitorial company Columbus Ohio knows exactly what to do for every mess.
There's a reason Master Clean has been around for so long and is known all over the nation. We take great pride in the work that we do and the satisfaction that we get when our customers are happy to see the results they were hoping for. If you choose Master Clean for your next janitorial service, we're confident that you will continue to call us back for all of your cleaning needs. We offer great prices that are fair and competitive. Head over to our coupons page to see what other great deals we have going on!
Thank you for choosing Master Clean for your next home or office improvement. We look forward to hearing from you soon!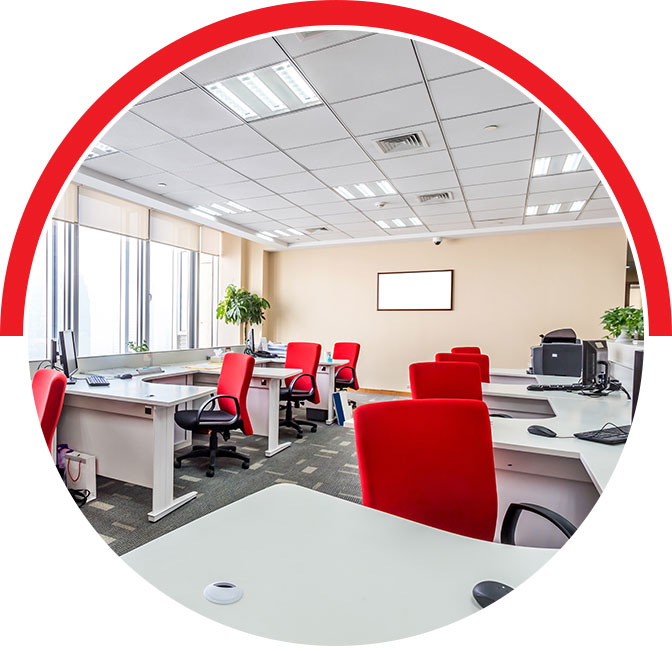 "Your team was Great. Ules was unbelievable. I am still amazed at what he did."
Dale Miller

"Wonderful service. I have used this company numerous times in the past years. They employees are very polite, on time, and do a thorough job. I highly recommend this company."
Anne Ritchie

"I have had my carpet cleaned by Stanley steamer as well as master clean and Damon did the best job of anyone."
Gloria Taylor

"The technician [Kegan] was friendly, on time and did a great job. There was a lot to do and he worked effectively and efficiently to get work done. I am very pleased with the work done."
Tamara Wisler

"Have used Master Clean for years. Damon could not have been more pleasant and professional. He has been my tech several times and does an excellent job on my furniture and carpet. Always a great job!"
Karen Albertson

"Zach was prompt, attentive, and informative with ideas on dealing with high traffic areas. Zach was very pleasant. I will certainly use Master Clean again."
Marcia Clever

"Excellent service and customer care. I was very pleased with the outcome and the time it took. Will definitely use again."
Teryll Higgins

"Technician was excellent. He was polite, courteous, knowledgeable, and extremely competent. I would request him again and recommend him to others."
Richard Letts

"David was great and helpful and made sure to explain what he did and how the cleaning reacts with old stains that are set in. Had a great experience!"
Courtney Goss

"Damon did a wonderful job, carpets look beautiful. Also, he is very professional and so polite. A joy to have in our home. Thank you"
Marie Highes

"No problems with the service, Kegan was courteous and very professional. He did a fantastic job and I'm very satisfied with the job done. Yea no more pet stain accidents."
Karen Hawkins

"David is a very nice polite young man. He did a great job. Hope we can ask for him the next time we need carpet cleaned."
Charles Burgess

"No problems great praise for tech Zach. I have a lot of other services at my home. Terrible job I will never use anyone else. Zach did an excellent job. Thank you."
Angela Jefferson

"The cleaning brought my carpet back to life. Great job 👍"
Lauri Sellers

"We had Rhyan clean our carpets today. He did such a excellent job today. Highly recommend him and prefer to have him do our carpets again. Thank you Rhyan!!!"
Robert Stein

"This was the best job cleaning ever from your company. Ules did an excellent job, great guy!!!"
Jack Marbury

"Brandon was on time, he was clean, courteous, respectful, and did a REALLY good job. I have used MC for probably twenty years and you have never disappointed.
Thanks!"
Mike Gallagher

"No problems very good service and got carpets clean very polite will definitely use this company again."
Sue Wiseman

"Brandon was awesome. On time, friendly, knowledgeable and hardworking. He was committed to doing the job well and making certain we were a happy satisfied customer. Thank you for the hard work. Our carpet looks great."
Jennifer Lamb

"Corey was very polite and efficient. We have had our carpets cleaned now 3 times since we built our home in 3 years. This is by far the best work and friendliest service we have received. We will definitely be using Master Clean going forward and will request Corey if possible. Thank you!"
Elizabeth Andrevich

"Ules was very nice, courteous and took the time to explain everything to me so that I understood what I was paying for today. I would recommend Master Clean and Ules!"
Dawn Beveridge

"No problems at all! I'm completely satisfied."
Mary Ryder

"Damon came for our cleaning service right on time and was professional and listened to my concerns. I really felt like he took his time to do a good job. I will definitely consider Master Clean for my next cleaning service."
Lauren Spaeth

"We have used Master Clean for over 20 years and they never fail to empress me. Brandon was prompt, courteous, and did a fantastic job! I've referred friends and will continue to do so. Master Clean never disappoints."
Valerie Robbins

"Zach was a great technician. I wish I had taken before and after photos of my berber carpet. He took the time to explain the process and how to get the berber dry. I was so happy. Thank you Zach."
Janet Ashcraft

"The carpet and love seats look like new. Damon did a fantastic job and was very professional."
Suzy Coughlin

"I was very happy with Masterclean. My tech was able to come earlier than expected which was great. He was professional, friendly, efficient and did a great job. Thank you!"
Kim Downs

"Ryan did a great job. He was professional and polite. The carpet looked so good that I added more areas. We will definitely use Master Clean again."
Nancy Goulet

"Kegan was professional and very friendly. He did a great job and is a great asset to your company."
Sandy Mendoza

"We were very pleased with the service Kegan gave us. He was very neat and very efficient. He was very pleasant and very kind. We would recommend him highly. Your company is fortunate to have him working for you."
Carol Goodin

"Great experience! Called this morning & was added on for this afternoon. Got a courtesy call with arrival time. Kegan was very professional & personable. He did a great job handling my furniture & performing the cleaning."
Kathy Stydnicki

"Wow! Ryan was very professional and quick to listen about several stain issues and started right in quickly!
He did an amazing job! He made it look like new! Hallelujah! Exceptional Service!"
Heather Bogner
Our JANITORIAL
Services Include

24-Hour Emergency Service



Tile, Grout, Natural Stone & Concrete Cleaning, Maintenance and Restoration

Acoustical Ceiling Cleaning




Water & Smoke Restoration