The Master Clean Process
Quality Upholstery Cleaning Services in
Three Easy Steps

Contact Us for a Free Quote
Speak to one of our customer service representatives to set up a time for us to come to your location, assess your situation and provide you with a cost-effective solution.

Schedule Your Service
Once you have your quote, we'll work together to determine the best date and time to perform our high-quality Upholstery Cleaning services.

Pay Upon Completion
After we've completed the service, we'll walk through the property with you and discuss everything that was done and ensure your total satisfaction prior to payment.
Restore The Fabric of your Furniture
Bring a new look and feel to your home with 
couches and chairs that look like new. 
Fabric couches, chairs and sofas take a heavy beating with regular everyday use, but with an upholstery cleaning performed by the professional team at Master Clean, these pieces can be restored with new life.
At Master Clean, we believe in a clean it right the first time mentality. We are highly trained in determining the right upholstery cleaning method for your individual upholstered pieces.
Our state-of-the-art, truck-powered system tackles the soils, spills, dust mites, pet hair and allergens that lurk deep within the fabric fibers. Through a high temperature steam extraction method, this process expels unwanted residue at the root of the cause — with faster dry times.
To safeguard your upholstered furniture from future spills, stains and the like, we also offer a fabric protectant that adds an extra layer of protection to the fabric fiber. This invisible protectant will not only extend the life of the piece, but will also give you an opportunity to treat accidental spills before they can create lasting stains.
Depending on the fabric type, dry cleaning may be necessary. Using a pure solvent and no water, this process will maintain the natural integrity of the upholstered piece. Our trained Master Clean technicians will determine the appropriate process necessary for your individual furniture needs.
We are committed to hiring the best professionals possible, which is why all Master Clean employees are screened with complete background checks. We take great care when working in your home, and it shows in the quality of the finished product. If you are in need of upholstery cleaning services in Central Ohio, contact Master Clean today!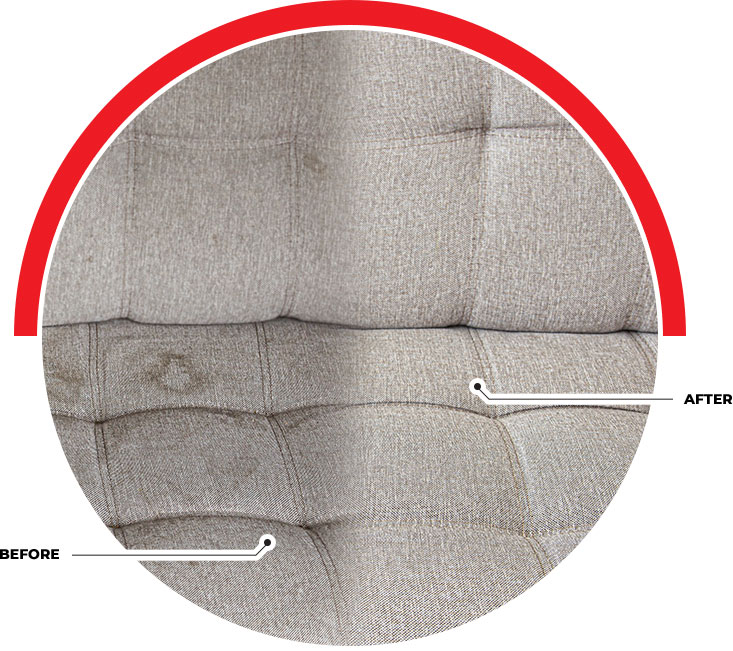 "The technician [Kegan] was friendly, on time and did a great job. There was a lot to do and he worked effectively and efficiently to get work done. I am very pleased with the work done."
Tamara Wisler

"Have used Master Clean for years. Damon could not have been more pleasant and professional. He has been my tech several times and does an excellent job on my furniture and carpet. Always a great job!"
Karen Albertson

"Zach was prompt, attentive, and informative with ideas on dealing with high traffic areas. Zach was very pleasant. I will certainly use Master Clean again."
Marcia Clever

"Technician was excellent. He was polite, courteous, knowledgeable, and extremely competent. I would request him again and recommend him to others."
Richard Letts

"David was great and helpful and made sure to explain what he did and how the cleaning reacts with old stains that are set in. Had a great experience!"
Courtney Goss

"Damon did a wonderful job, carpets look beautiful. Also, he is very professional and so polite. A joy to have in our home. Thank you"
Marie Highes

"David is a very nice polite young man. He did a great job. Hope we can ask for him the next time we need carpet cleaned."
Charles Burgess

"The cleaning brought my carpet back to life. Great job 👍"
Lauri Sellers

"No problems great praise for tech Zach. I have a lot of other services at my home. Terrible job I will never use anyone else. Zach did an excellent job. Thank you."
Angela Jefferson

"This was the best job cleaning ever from your company. Ules did an excellent job, great guy!!!"
Jack Marbury

"No problems very good service and got carpets clean very polite will definitely use this company again."
Sue Wiseman

"We had Rhyan clean our carpets today. He did such a excellent job today. Highly recommend him and prefer to have him do our carpets again. Thank you Rhyan!!!"
Robert Stein

"Brandon was awesome. On time, friendly, knowledgeable and hardworking. He was committed to doing the job well and making certain we were a happy satisfied customer. Thank you for the hard work. Our carpet looks great."
Jennifer Lamb

"Brandon was on time, he was clean, courteous, respectful, and did a REALLY good job. I have used MC for probably twenty years and you have never disappointed.
Thanks!"
Mike Gallagher

"No problems at all! I'm completely satisfied."
Mary Ryder

"Ules was very nice, courteous and took the time to explain everything to me so that I understood what I was paying for today. I would recommend Master Clean and Ules!"
Dawn Beveridge

"Damon came for our cleaning service right on time and was professional and listened to my concerns. I really felt like he took his time to do a good job. I will definitely consider Master Clean for my next cleaning service."
Lauren Spaeth

"Zach was a great technician. I wish I had taken before and after photos of my berber carpet. He took the time to explain the process and how to get the berber dry. I was so happy. Thank you Zach."
Janet Ashcraft

"We have used Master Clean for over 20 years and they never fail to empress me. Brandon was prompt, courteous, and did a fantastic job! I've referred friends and will continue to do so. Master Clean never disappoints."
Valerie Robbins

"Ryan did a great job. He was professional and polite. The carpet looked so good that I added more areas. We will definitely use Master Clean again."
Nancy Goulet
Our Upholstery CLEANING
Services Include

Reduced Pollutants, Bacteria, Molds & Dust Mites


Available Fabric Protectant


Increased Life for Your Furniture